How to Reduce Technology Costs
Nov 2, 2021
Digital transformations empower businesses to run more efficiently and lower operating costs. Of course, the price of the technology itself makes a big difference to how much you can save in the long run. An IT cost reduction analysis can help you reduce unnecessary costs and make the most of your investment.
Saving money in the short term isn't always the answer. CIOs need to focus on reducing costs without affecting the long-term health of the business. Rather than halting investment in critical technology that can help your business stay competitive, businesses should focus on cost optimization that leaves room for growth.
In a recent survey, 72% of IT and cloud decision-makers reported struggling with disjointed management tools for technologies. Cost optimization strategies should focus on a unified approach with easily compatible software and hardware to reduce spending and improve efficiency.
So how can business owners plan IT cost reduction initiatives without slowing down operations?
Gain Insight, Anticipate Issues and Plan for Growth
CalTech's IT Assessment is a comprehensive, objective, and fully actionable evaluation of your IT infrastructure's status, health, and future capacity.
IT Cost Reduction Levers
Strategizing cost reduction efforts starts with identifying all the possible cost reduction opportunities or levers. These levers should focus on efficient cost-cutting while minimizing disruptions to the business.
Here are some steps you can take to identify these levers and consider which ones to implement for your cost reduction strategies:
Identify your Costs: Begin with an itemized view of all your IT-related expenses so you can spot overlap and identify services you aren't using efficiently. Break costs down between all the business units to discover outlier spending from specific teams.
Focus on Immediate Savings: Your cost-cutting initiatives can provide results in weeks rather than months if you target items that are on a pay-as-you-go basis. Consider all the uncommitted and unspent resources in your budget first.
Consolidate and Negotiate Contracts: Telecom services and contracts with software companies get costly quickly. Bundled services can offer a significantly reduced price tag. You can also identify overlap and adjust your service levels to match your usage.
Right-Size Your Infrastructure: Strategies that focus solely on operating expenses miss important opportunities. Targeting capital expenditures can create more room in your budget. The most expensive hardware isn't always necessary. Cheaper technology that can still run your applications efficiently is often better for your needs.
Get it Right the First Time: Many organizations take a "just enough for now" approach to cost management. CIOs and business owners should take a forward-thinking strategy that leaves room for growth while ensuring you don't need to cycle through your cost reduction plan time and time again.
IT Cost Reduction Ideas for CIOs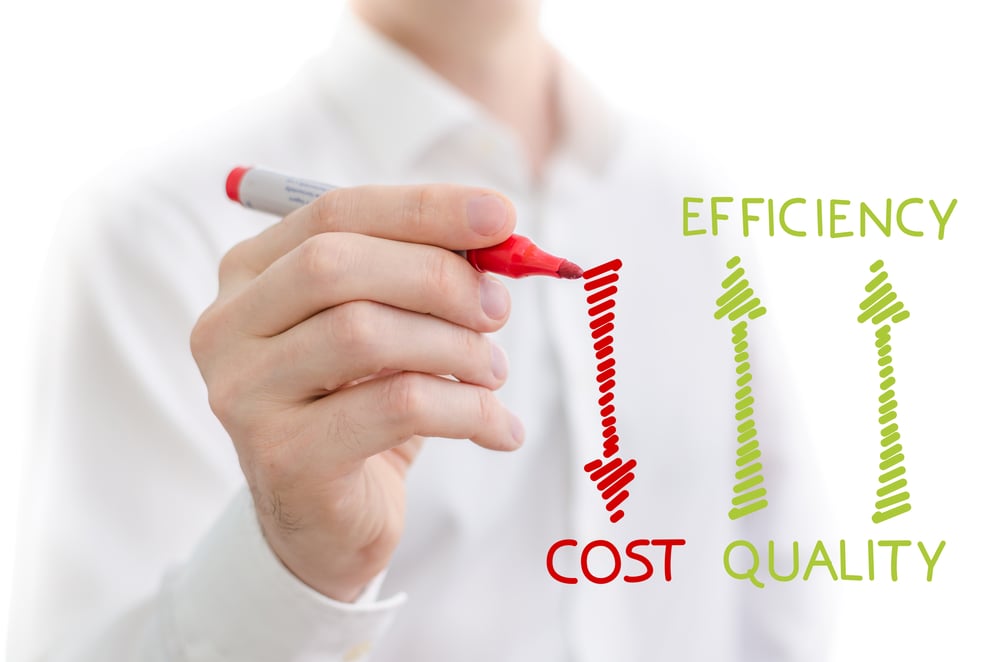 Business plans always have room for creative financial thinking. With the right approach to IT investment, you can spend efficiently while improving your business processes. Here are some key areas to target with your IT cost reduction framework:
Cloud Costs
If your cloud usage across departments has no apparent oversight, it's easy to waste money. Businesses that don't track and monitor cloud use can overspend an average of 40%. It's crucial to get a unified view of your cloud usage and scale back appropriately.
A cloud management platform can help you save money on virtual machines and hardware by optimizing their use. Cloud management can also ensure your data is secured with adequate data backup and disaster recovery in place.
Cost Savings from Standardized IT
When employees operate on multiple platforms using multiple platforms, it can create compatibility issues. Providing your teams with streamlined hardware and software solutions can optimize the workflow and minimize software costs.
If employees use the same systems, training is simplified. It also helps your IT specialist solve issues faster.
Cut Expenses on Software Licensing
While many businesses save on software by developing their own, you don't need to start from the ground up. Open-source software is free to use, and you'll never get locked into a licensing agreement. Your internal teams will also have access to the source code so they can modify the software to optimize it to your company's needs.
Reduce Turnover
While the cost of losing an employee isn't directly related to IT, frequent turnover costs an average of 33% of an annual salary. Employee turnover also creates more work for the IT department, restricting access and setting up new accounts for replacements. Employees leaving can also increase your risk of a data breach.
It's critical to create a company culture that actively supports your employees so they want to stick around longer. However, when employees leave, you can use the opportunity to save money. You may consider hiring a lower-level employee or using a part-time person to replace them.
Stay Up to Date on IT Practices for Your Business:
How IT Managed Services Enable IT Cost Reduction
Experience is critical when it comes to reducing technology costs. That's why so many businesses outsource their IT needs to qualified experts. With managed services, you can plan your spending, save money on full-time employees and let your internal IT team focus on high-value projects.
CalTech draws from over 30 years of experience helping financial institutions manage their infrastructure and protect their data. We offer 24/7 monitoring, off-site data storage, and strategic guidance to help your company optimize spending and stay compliant with regulations.
Contact us today to learn more about our comprehensive network administration, troubleshooting, and maintenance services.